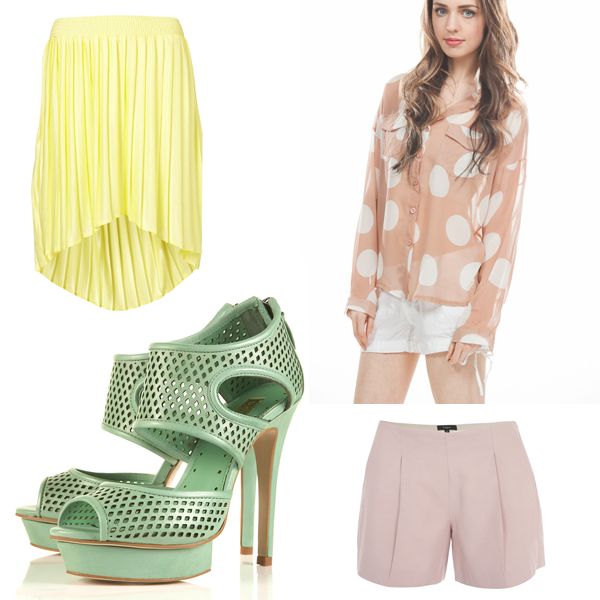 (1)
Pleated Dip Hem Skirt from Topshop
(2)
On the Dot Top from Urban 1972
(3)
Paul Smith Black Label dusty pink pleated front tailored shorts
(4)
Scooter Sporty Platform Sandal from Topshop
Pictured above: Hanne Gaby Odiele, my latest style fave. Her off-the-runway looks are always bold and fun.

I've got pastels on the brain! (Remember when I said that I didn't like pastels? Anyway.) It's because the weather here on the East coast is gorgeous right now. March? What's March? It feels like May. I'm excited because this means that garage sales will be starting up again. You don't really see people having them in the winter months, but as soon as the weather gets warm... they pop up curbside Saturday mornings.
Today I made a Target run. I mostly bought beauty supplies, but I also salvaged a pleated Jason Wu for Target skirt on the clearance rack! There were a few pieces left, all XL, except for this skirt which was miraculously a size 6. I ordinarily wear a 3/4 but it fit me just fine and there was no way I was going to leave without it. I also found two bright dresses, my coveted polka dot tights, and a boyfriend cardigan in white. The boyfriend cardigan was quite a popular item I think; the shelf was decimated and only a few were left. Then I made a run to my favorite thrift store. I didn't really dig in but I still found some lovely items. I got a vintage pleated skirt and this gorgeous gold-and-brown knit sweater. I also found some brown Michael Kors loafers. I have to do another video about that soon.
MUSIC REC
: The Shins - "40 Mark Strasse" (from their upcoming new album Port of Morrow, stream it
HERE
)